Nobody loves to be organized more than me!  It helps me feel like I've got a portion of my life together.  When I come home, I visually like to see my home space neat, clean & organized.  I am anti-clutter and very much a minimalist.  Our days are hectic and loaded with stress, so,when you get home, its great to have visual relaxation, and that can begin in your closet!  I have been thinking, since it's the new year, there's no better time to get rid of some of that stress, and help you get ORGANIZED!  That's why I've put together the perfect items for The Ultimate Closet Makeover with Wayfair.  Whether you have a closet to yourself or share it with someone else, Wayfair has you covered!
The Ultimate Closet Makeover
with Wayfair
One of the very first things you need to do for your makeover is go through your clothes.  It's painful in the beginning, but trust when I say it feels like a weight will be lifted from your shoulders, in the end.  It honestly is one of the best purging feelings I've ever had.  Start with what you have not worn in a year, then narrow it down by what fits and what doesn't. (It's really hard not to fall into the "I'll fit into these jeans when I lose 10lbs).  If you absolutely can't get rid of them or sell them, store those items in a plastic tote and send them to storage, that way you can incorporate them back into the closet after hitting your weight loss goal.
Closet Makeover
Tip:  think of whether you want to try to get some money back out of them or donate then and take the tax write off!  I always sell my items on Ebay, Poshmark or Facebook Marketplace.
Choosing matching hangers can create that aesthetic appeal to help make your closet more organized, as well.  I love the felt hangers listed below, that keep clothes from sliding off! Wayfair has a ton of amazing closet systems to choose from.  Measure your space and think about whether you need hanging space, drawer space or some of both.
Wayfair's Design Services
If this part is too overwhelming, Wayfair has design services where you can get help from a professional and they can help decide what would be best for your space.  They also have a 3D room visualizer that you can drag and drop to your space to help you get a good visual of what it would look like.  This is especially nice, because you can move things around and visually see how to maximize your space!
Remember, everything in your closet needs a home.  Whether that's in a drawer, on a hanger, or in a container.   I, personally like to keep everything off of the floor(It's visually more appealing), plus its much easier to vacuum when there's nothing in the way!
Shoes & Accessories
Once you've gone through your clothes, its time to think about your shoes/handbags/hats/belts & accessories.   Only keep what you wear! Remember, your goal is to clear the clutter!!!  Hanging your belts on a belt hanger is a great space saver.  I store my sweaters and hats in storage totes(since those aren't items I use daily).  No one wants to look at a hamper in your bedroom, so keep one in the closet.  I love the one below because the wheels make it easier to roll to the laundry room and saves your back!
If you have the space, hanging a drying rack on the back of your door can be so handy, if not in your laundry room, but your closet!  That way you can take them straight from the drying rack to the hanger.  I love this shoe rack below.  It can store 8 pair of shoes, because you can set it up above a closet system.  If this one doesn't tickle your fancy, not to worry, they have TONS to choose from.
Whether you're trying to organize your makeup, perfume, hair accessories or jewelry, I love this cosmetic organizer below.  It's clear, so you can easily see the contents.  They can store all of the smaller things.  These have never been so popular as the past couple of years.  I see these all over fashion bloggers pages!  This would work great in a girls room to store their millions of tiny little objects(anyone with daughters will understand this)
Drawer organizers nice, since they can separate your items in the drawers.  I  like them in a sock drawer, underwear and to organize bras, but they also work perfect for instance in a drawer where you have workout leggings or shorts.  Wayfair has so many to choose from.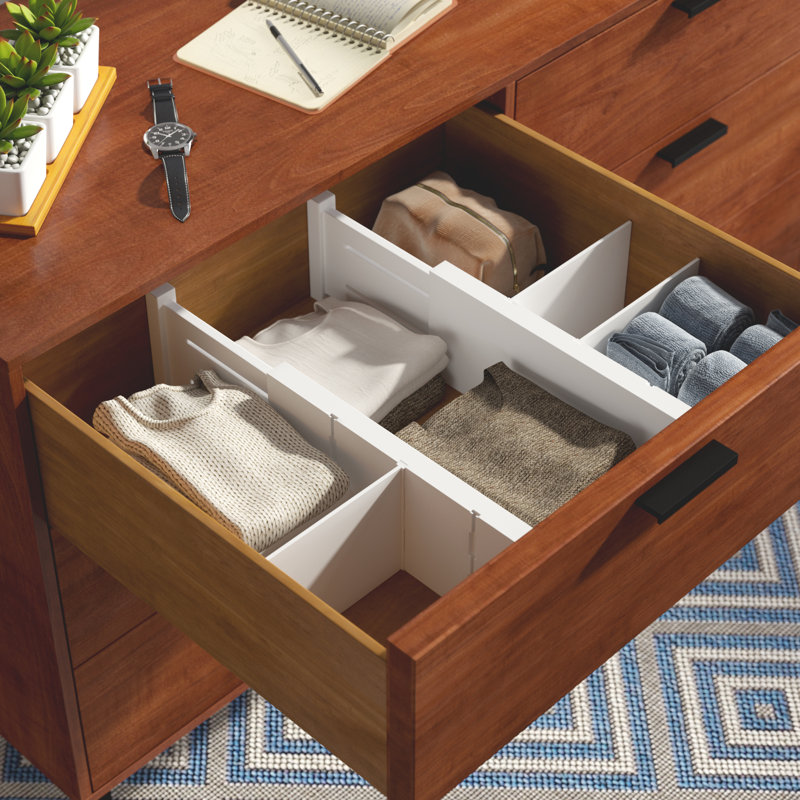 Shop the products below
| | | |
| --- | --- | --- |
| Canvas Window Storage Box // More Storage Bins | 14 Hook Overdoor Organizer // More Closet Accessories | Tie and Belt Hanger Hanging Organizer // More Hanging Organizers |
| Folding Drying Rack // More Drying Racks | 3 Bag Laundry Sorter // More Laundry Baskets | Woodcrest Closet System // More Closet Systems |
| Billington Closet System // More Reach-In Closet Systems | Plastic Storage Box // More Plastic Storage Bins | Collapsible Fabric Bin // More Fabric Bins |
| Makeup Cosmetic Organizer // More Makeup Organizers | Weathertight Plastic Tubs & Tote // More Plastic Bin Options | 10 Pair Shoe Rack // More Shoe Racks |
| Cosmetic Rolling Tray Drawer Organizer // More Drawer Organizer Sets | 9 Compartment Drawer Organizer // More Underbed Storage Options | Babcock Closet System // More Wall-Mounted Closet Systems |
| Bobbi Ultimate Corner Kit // More Corner Closet Systems | Storage 4-Drawer Unit // More Free-Standing Closet Systems | Pant/Skirt Hangers // More Clothes Hangers |
| 4 Tier Metal Hanger // More Multi-Layer Hangers | Velvet Non-Slip Hangers // More Non-Slip Hangers | 2 Bag Laundry Sorter // More Laundry Sorters |
Thanks for reading and I would love to see some pictures of your makeover and how it has changed your life!!!
XOXO